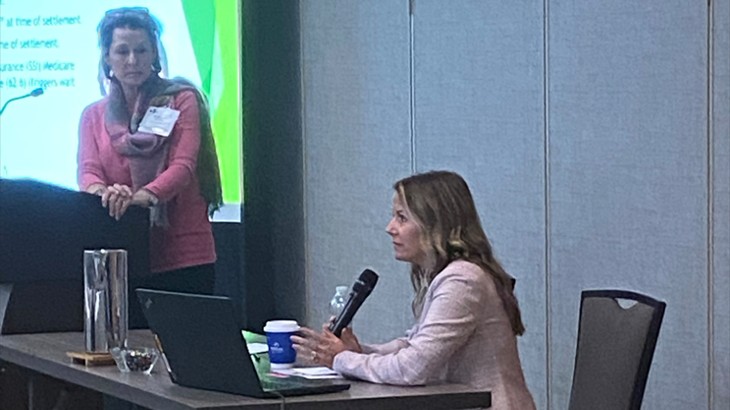 Recently attorneys Crossett, Stringham, Nicoletti and Nichols attended the fall meeting of the New York Injured Workers Bar Association (IWBA), in Saratoga, New York. Not only did they all learn about the new Prior Authorization Request (PAR) and the new Schedule Loss of Use (SLU) procedure, they also offered their expertise to the group.
Bethany Nicoletti spoke, along with Kathleen Oot-Quinn, president and CEO of MSA Advocates, about Medicare Issues that commonly arise when entering into Section 32 settlements. Bethany and Kathleen discussed recent legislative updates, insurance company trends that lawyers should avoid, and the best ways to protect Injured Workers' and Medicare interests.
Christopher Stringham, who serves as Secretary of the IWBA, worked to frame the organization's goals for 2023. The IWBA recognizes that Injured Workers face unnecessary delays in obtaining medical treatment and that hearing requests are falling on deaf ears. Chris and the other officers will work to improve the Board's response.
William Crossett, Co-Chair of the New York Workers Compensation Alliance, a political action committee formed to advocate Workers' Compensation Issues, reported on the Temporary Total legislation that passed the New York State Senate and Assembly, as well as discussed, the prospects of executive action before the year-end.
At her first in-person IWBA event, Grace Nichols networked with attorneys from all corners of New York while meeting psychological medical providers who assist many of our clients in Watertown, New York.
MCV Law is pleased to be a founding member of the New York Injured Workers Bar Association (IWBA).