When you need a Workers' Comp Lawyer near Syracuse, NY and surrounding regions, get the experienced, award winning attorneys at MCV Law on your side.
Workers' Comp Is Complicated. Don't Deal With It Alone. If hurt at work, or if you've developed a medical condition due from your job, Workers' Comp benefits are not a guarantee.
30+ Years of Fighting for Injured Workers - Our Workers' Comp. Lawyers have the experience you need.
Our Team Includes Award Winning Workers' Comp Lawyers
Don't Wait Until It's Too Late - Their are statutes of limitations that apply for Workers' Comp claims. This means that in order to receive Workers' Comp benefits, you'll need to file a claim within a certain amount of time after a work injury.
"I very much appreciate everyone at this practice. It was a long road but they were there every step. I definitely recommend being represented by the good people at MCV Law. Thank you all so much for all you've done. You made a difference ❤️"
-Dakota, a satisfied MCV Law client
Don't Wait Until It's Too Late. Talk with a Workers' Comp Lawyer near Syracuse, NY at MCV Law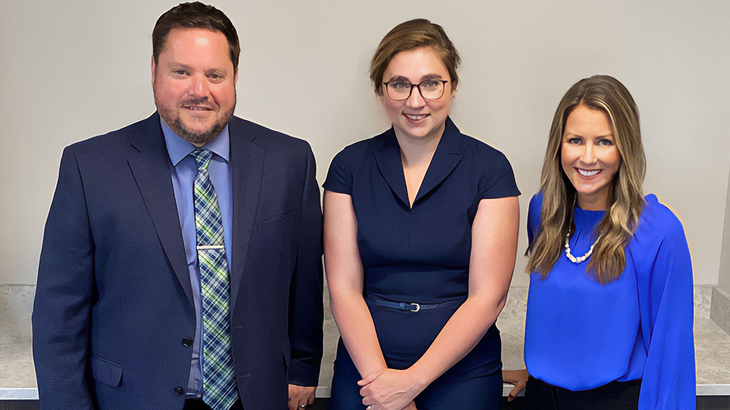 In NY State, there are statute of limitations that apply for Workers' Compensation.
You have 30 days from your on the job injury, or from the time that you know your medical condition was caused by your work, to notify your employer.
You also must file a Workers' Compensation claim within 2 years of your work injury or within knowing that your medical condition was caused by your work.
For a Free Case Evaluation, Call a Workers' Comp Lawyer near Syracuse, NY at
315-471-1664
The Beginning Stages of a Workers' Comp Claim Can Make the Difference in How a Case is Decided. Contact a Workers' Comp Lawyer Today
Your employer's insurance carrier will do an exhaustive review of your Workers' Comp claim. What's included in your initial Workers' Comp claim can make the difference between your benefits being denied or approved.
What may seem like straightforward information and paperwork may actually be cause for denial for your employer's insurance company. Because of this, it's important to talk to a Workers' Comp lawyer as soon as possible.
Why Choose MCV Law When You Need a Workers' Comp Lawyer near Syracuse, NY?

For decades, the Workers' Comp lawyers at MCV Law have helped people like you get the benefits that you deserve.
See what some of our Workers' Comp lawyer clients have to say about MCV Law below.
"This office goes above and beyond for their clients. It's not just the lawyers that help you, it's the whole office staff. They always answer any questions we have, in a timely manner. I recommend them to anyone dealing with workmans comp."
- Theresa
"I am so grateful to have had Bethany Nicoletti at MCV Law and their staff on my side. For just over 3 years their services have exceeded my expectations. Bethany is so professional and so knowledgeable and was able to help me through the process and kept me informed at all times. Thank you Bethany Nicoletti and MCV Law. I highly recommend this firm."
- Justin
"MCV has been an excellent law firm to deal with on both my social security disability and workers compensation claims. All of the client advocates that I have worked with over the past year are very caring and take the time to listen to your concerns. They are able to answer all your questions or get answers for you asap. I can also say the same about the lawyers that I have worked with. All are totally professional know what they need to do to get things done. I highly recommend MCV for all areas of law that they practice in."
- Steven
"MCV Law is amazing. They have a great team of people who are working hard for your case. They are very polite and very professional. My case was handled by Grace and I have nothing but positive things to say about the way it was handled. Valerie and Betsy were also an intregal part of the team and making communications easy and understanding. I highly recommend MCV Law to anyone who needs a workers compensation lawyer!"
- Nick
"My workman's compensation case was handled very professionally. Not only were they courteous as well they made sure I fully understood what was happening, why it was happening and what was needed to proceed with my case. I would endorse and strongly recommend this law firm to anyone who needs a workman's compensation attorney!As an edit to my original post it has been close to 2 years now since my injury and am still impressed with how MCV Law has been handling my case. Even a minor question or a question for my piece of mind is handled professionally and is explained so there is no doubt in my mind. I also want to add that if anyone does get injured at work get an attorney. I went for the longest without one and choose one finally when I had a court date from the insurance carrier. MCV Law put a stop to me running back and forth to my doctor's to provide the insurance carrier additional information. No matter what the insurance carrier says, they are not your friend. On a final note, I really can't stress how much I appreciate everything this law firm has done for me, without them I don't even want to think of what else the insurance company would of put me through."
- Brian
Get Answers to Your Comp Questions, and Get a Workers' Comp Lawyer near Syracuse, NY to Fight for You
Confused about the specifics of your Workers' Comp case?
Looking for someone who will listen to you and advocate for you in front of the Workers' Compensation Board?
An MCV Law Workers' Comp Lawyer near Syracuse, NY can help.