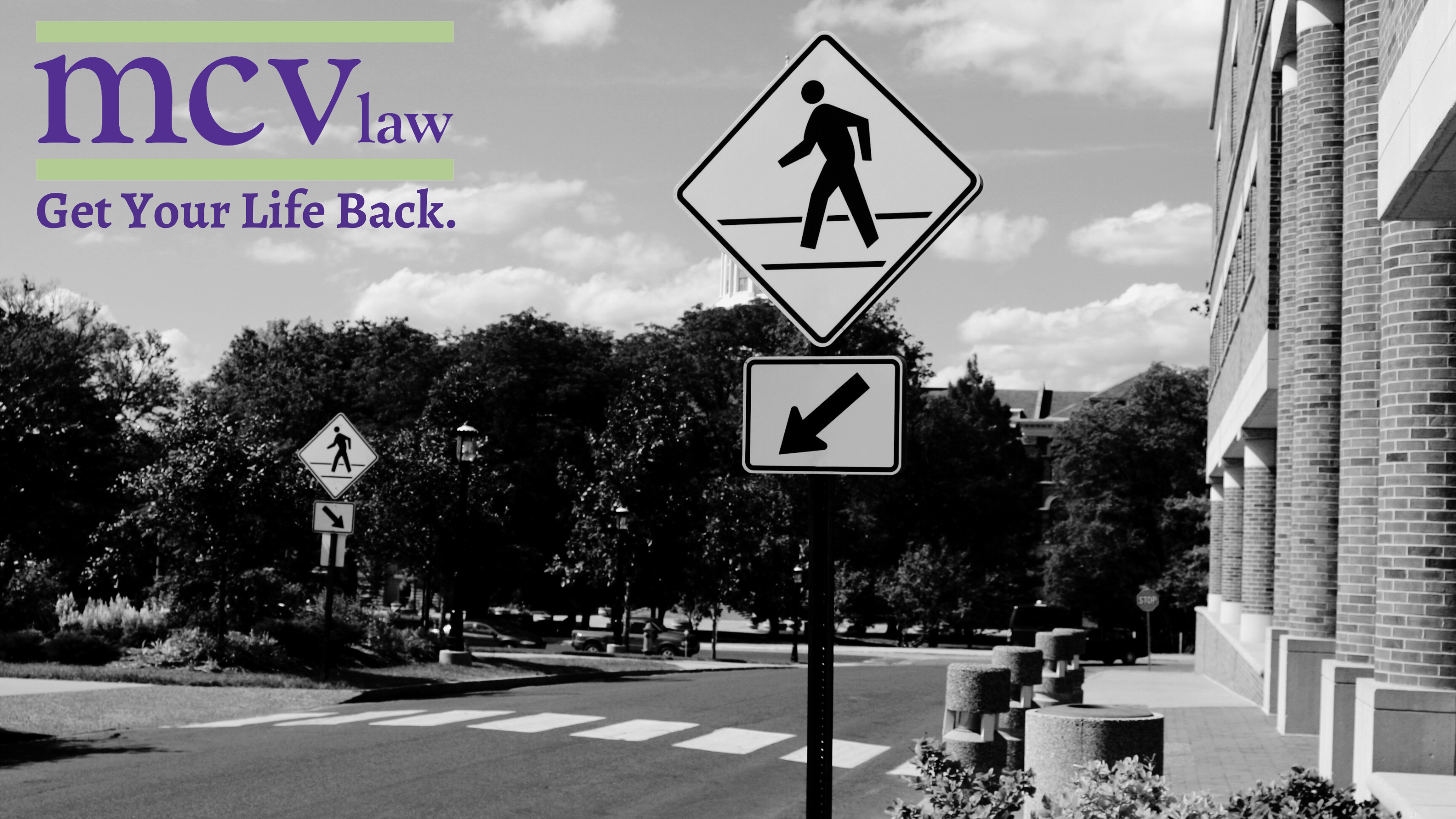 Injured by a Negligent Driver? We're Here to Help.
The pedestrian accident attorneys at MCV Law have a proven track record of winning substantial settlements for pedestrians who've been injured in the Central New York area. We will conduct a thorough investigation into the accident, your injuries, and whether the driver may be held financially responsible for the harm that they've caused.
It may feel like your injuries have turned your life upside down. MCV Law is here to help you secure the compensation you deserve, with the hope that it can aid your recovery and give you some peace of mind.
How a Syracuse Pedestrian Accident Lawyer Can Help:
MCV Law has a long, proud history of fighting for injured pedestrians in Central New York. Even in cases where a driver was clearly negligent, it's critical to have a lawyer on your side who can gather evidence, testimony, and medical records, and present them in a way that supports your claim. A pedestrian accident lawyer can also assess the value of the injuries you've sustained, and then negotiate with the driver's insurance company to fight for a fair settlement. Insurance companies often have experienced lawyers of their own. We can handle the legal fight for you, so you can focus on getting better.
Call (315) 471-1664 to take the first step.
How Much Does a Pedestrian Accident Lawyer Cost?
The pedestrian accident lawyers at MCV Law work on a contingency basis, meaning that you don't pay us anything until we win you compensation. To get started, call us today to set up a free consultation. 
Evidence Used in a Pedestrian Accident Case:
To secure the damages you deserve, you will need to prove: 
    The other party owed you a duty of care
    The other party committed negligence which breached that duty of care
    The other party's breach of duty caused your injuries
    The accident was the proximate cause of your injuries
To support your claim and prove these four points, you and your lawyer can present relevant evidence, including:
    Footage from traffic cameras, dashboard cameras, or other sources of photographic/videographic evidence
    Police accident reports
    Analysis from accident reconstructionists
    Witness testimony
    Medical records
Our skilled attorneys have years of experience gathering medical records and the evidence necessary to build a strong pedestrian accident case. We regularly work with witnesses, law enforcement, accident reconstructionists, and medical professionals to collect and present exactly what our clients need to make a case and win fair compensation.
Dealing With the Negligent Driver's Insurance Company
Oftentimes, the insurance company and its lawyers will offer a settlement to the claimant (injured pedestrian) to avoid having to go to court. If you are interested in accepting this settlement, our attorneys can help you negotiate terms. In cases where a fair settlement is not offered by the insurance company at first, our attorneys have the skills and work ethic to take the insurance company to trial and represent you in court. In both scenarios, when you choose MCV Law for your pedestrian accident case, you can be confident that your interests will be well-represented, and your claim will be handled with the care and attention that it deserves.  
How Much is a Pedestrian Accident Claim Worth?
The damages awarded to an injured pedestrian generally depend on the specific injuries. Some of the factors at play can include: 
    Severity of your injuries
    Costs of medical treatment, rehabilitation, and/or physical therapy
    Lost wages and/or lost future earning capacity due to the impact of your injuries on your ability to work
    Pain and suffering
    Mental trauma
    Diminished quality of life
    Wrongful death
    The negligent party's insurance coverage
While every pedestrian accident case is different, generally speaking, the more severe an injury and the bigger its impact on a victim's life, the larger the settlement will be.
Additionally, the level of fault demonstrated by the driver is a major determinant. Disobeying traffic controls, speeding, driving while distracted, and driving under the influence are all common examples of unsafe driving practices that can cause severe injury or death to pedestrians.
In addition to a personal injury settlement awarded under New York Personal Injury law, the injured pedestrian may be entitled to other benefits. For instance, if you were struck by a vehicle and hurt while on the job, you may be eligible for Workers' Compensation benefits. If your injuries result in a disability that is debilitating enough to keep you from working in the future, you may be eligible for Social Security Disability benefits. MCV Law handles Personal Injury, Workers' Compensation, and Social Security Disability claims on behalf of our clients, often in combination for a single injury, with the goal of maximizing the total compensation awarded. 
When pedestrians are hit by a vehicle, the injuries are often severe, and sometimes even fatal. MCV Law is here to protect injured pedestrians through skillful application of the law. We can handle the paperwork, deadlines, and legal battles so you can achieve peace of mind during a stressful, painful time in your life. When you choose MCV Law, you know that your claim is in experienced hands. 
Get your life back. Call us today for a free consultation, and get your claim started.