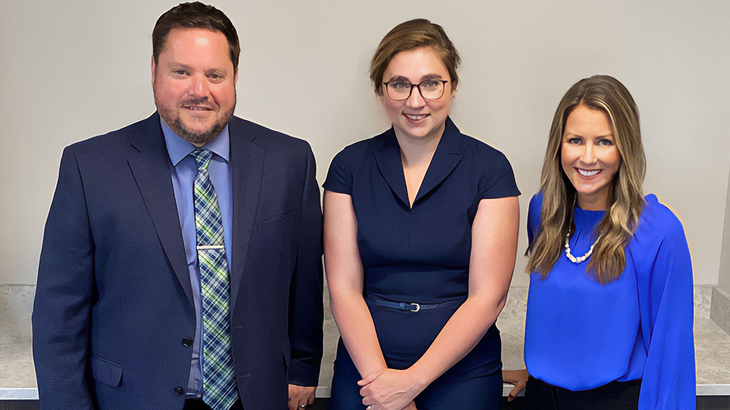 MCV Law's Watertown, NY workers' compensation lawyers have decades of experience with protecting the rights of injured workers. Our workers' compensation lawyers near Watertown, NY have helped people like you obtain benefits you may be entitled to. 
What Our Satisfied Clients Say About Our Workers' Compensation Lawyers Near Watertown, NY
"MCV Law is amazing. They have a great team of people who are working hard for your case. They are very polite and very professional. My case was handled by Grace and I have nothing but positive things to say about the way it was handled. Valerie and Betsy were also an intregal part of the team and making communications easy and understanding. I highly recommend MCV Law to anyone who needs a workers compensation lawyer!"
- Nick
"I have been using Meggesto, Crossett &Valerino as my Workers Compensation Attorneys. My experience has been excellent. They are extremely professional and address any issues or concerns in a very timely manner. Valerie Swieck has been so very helpful as my advocate with any issues I've encountered or questions that need to be answered or need to be taken care of. I'm extremely happy with making MCV as my choice in Law Firms representing me."
- Debra
 Schedule Your Free Case Evaluation
You Don't Pay Our Workers' Comp Lawyers Unless We Win Your Case
At MCV Law, we know that you're dealing with a lot right now. We want to help, not add to your stress. That's why our Watertown Workers' Compensation Lawyers don't require any upfront payment. We only get paid once you get paid. Your lawyer fees are covered by a small percentage of the money that you are awarded. 
Getting Your Life Back Starts Here
Get Workers' Comp Lawyers Near Watertown, NY On Your Side
The New York Workers' Compensation system is complicated. With legal hearings, required documentation and paperwork, legalese and other requirements, Workers' Comp can seem overwhelming to most injured workers.
Because of this, injured workers should speak with a Workers' Comp lawyer as soon as possible about their case. The Watertown, NY Workers' Comp lawyers at MCV Law are here to help, guiding injured workers through every step of the process to pursue the maximum benefit for our client.
We understand that you're not trying to become a legal expert. However, you do want to understand the Workers' Compensation system enough to comprehend the decisions in your case. You also want to know how these decisions will impact your ability to provide for yourself and your family. At MCV Law, we provide individual attention to each client's needs and rights. We help each client understand the specifics of their case, while providing the legal representation each client can depend on.

Download Our Free NY Workers' Comp. Guide
What is Workers' Compensation?
When someone is injured or develops an illness on the job, the Workers' Compensation system is one of very few ways that an injured worker can defend their rights. Injuries or illnesses that are eligible for NYS Workers' Compensation benefits must be directly related to an occupation.
There are two types of claims that are eligible for NYS Workers' Compensation benefits. These two types of claims include Accident claims and Occupational disease claims.
An Accident claim relates to a sudden injury that happens during the course of employment, such as slipping and falling or breaking bones while moving equipment. These are just two examples of the many types of Workers' Compensation accident claims.
Learn More About Accident Claims
An Occupational Disease claim is when an employee develops a disease or long term illness from their work responsibilities. For example, exposure to asbestos while working may cause certain chronic illnesses. Another example may be a secretary developing carpal tunnel from repetitive motions, such as typing.
Learn More About Occupational Diseases
The First Steps for a Workers' Compensation Claim
Specific statutes of limitations apply to Workers' Compensation cases. What these statutes of limitations mean is that a Workers' Compensation claim must be filed within a certain time period following a work injury, or following an injured worker discovering that their illness is a result of work.
Taking action to initiate your Workers' Compensation claim is a time sensitive matter that should be done as soon as possible. NY Workers' Compensation law states that an injured worker has 30 days from an injury or the time of knowing their sickness is a result of work to report the injury or illness to the injured worker's employer. A Workers' Compensation claim must be filed within 2 years of the injury or illness.
Contact Our Workers' Comp Lawyers Today
Workers' Compensation Settlement
A Workers' Compensation settlement means different things to different people. Determining what a Workers' Compensation settlement looks like for your case depends on your goals for the outcome of your case.
Some injured workers pursue a Workers' Compensation Settlement in the form of a Schedule Loss of Use (also known as an SLU). Other injured workers may pursue a Section 32 settlement, where future medical care and ongoing rights to collect lost wages is exchanged for a sum of money. In some cases, injured workers consider their case to be a victory when they return to work and earn what they did when the original work injury occurred.
MCV Law's experienced Workers' Compensation lawyers near Watertown, NY have obtained a variety of Workers' Compensation settlements for our clients. The type of Workers' Compensation settlement that our attorneys can help you pursue depends on the specifics of your case, and what you want the outcome of your case to be.
Talk With Our Workers' Compensation Lawyers Near Watertown, NY
MCV Law offers a free case evaluation. In this free case evaluation, our Workers' Comp lawyers will listen to you, providing insights on your legal options and what's next.
For more than 30 years, MCV Law's Workers' Compensation lawyers have helped protect the rights and livelihood of those who have been injured or developed an illness in the course of work duties.
Our Workers' Compensation lawyers have a law office in Watertown, NY, offering experienced legal representation that's close to home.