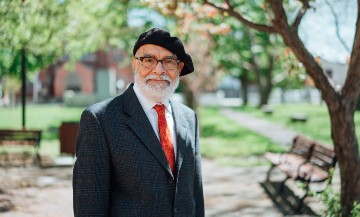 James A. Meggesto, one of the founders of Meggesto, Crossett & Valerino, LLP (MCV Law), is pleased to share that he has taken on a new role as corporate counsel to C.A.S. Industries, Inc. C.A.S. Industries, Inc. does business locally as The Art Store and corporate counsel to National Art Supply (a related Florida corporation), which is a national online provider of art supplies. For the past few years, Mr. Meggesto has been of counsel to MCV Law using his almost fifty years of experience to mentor other firm members and help long-standing clients.
Mr. Meggesto served in the United States Navy during the Vietnam War and, upon seeing combat action during the Gulf of Tonkin incident, was the recipient of the Presidential Unit Citation. Following his Honorable Discharge, he attended Niagara University and later graduated from Syracuse University College of Law. In light of his experience representing both Plaintiffs and Defendants in his trial practice, Mr. Meggesto has often been sought out for arbitration and mediation.
Mr. Meggesto is relocating his office to 1101 Erie Boulevard East in Syracuse, New York in the very near future; however, the renovations for the office space have not been completed and he is temporarily located at 935 Erie Boulevard East in Syracuse, New York. He can best be reached by calling (315) 660-7500 or by email at [email protected].